Da Hustle Classic Collection
Testimonials
My husband received his T-shirt in the mail today, and this packaging is so DOPE!!!

Mrs. McNair
Amazing t-shirt!!! & thank you for the speedy service.

Darius J.
It's a statement! Da Hustle Is Money Back Guaranteed, & I can relate. I'm loving the t-shirt quality, the fit & packaging is amazing.

Chris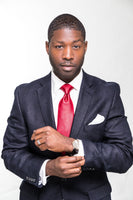 About Calvin Richmond
Some people simply make things, while others innovate. Some people change, while others transform. Some people see while others envision. And then there is a force so powerful that it drives a disruption that can change how we see and do—everything.

Meet Calvin Richmond.

As the creative engineer behind one of the most highly-sought after branding and marketing firms in the country, The Building Big Brands Agency, Calvin's propensity for elevation is propelling the company forward into unchartered territories in the realm of digital marketing. Integrating design thinking, branding and an eye for vibrant visuals, he is sparking the online space with campaigns that combine creative risk-taking and the power of social currency. Never one to shy away from a challenge, Calvin can take a company from virtually unnoticed to viral within weeks. He comes to conquer. So he does.

A renowned strategist, Calvin's view is always 10,000 feet—and above. With a constant finger on the pulse of tech, business, and marketing, his foresight has led him from one innovative entrepreneurial move to the next. He's spent as much time at the helm of successful companies as he has behind the scenes, yet his influence is always undeniable. As tactical as he is creative, Calvin is masterful at orchestrating a company's tipping point, leveraging a formula of presence and positioning that ultimately leads to profit.

Calvin is a quintessential renaissance man. Influenced by everything from classic cars to classical music, he sees the world through a distinct lens of color, creativity, and curiosity. And it's that perspective that keeps him on the cusp of what's next.

True to his visionary form, Calvin expands. He ignites. He accelerates.

So you can catch him. If you can.